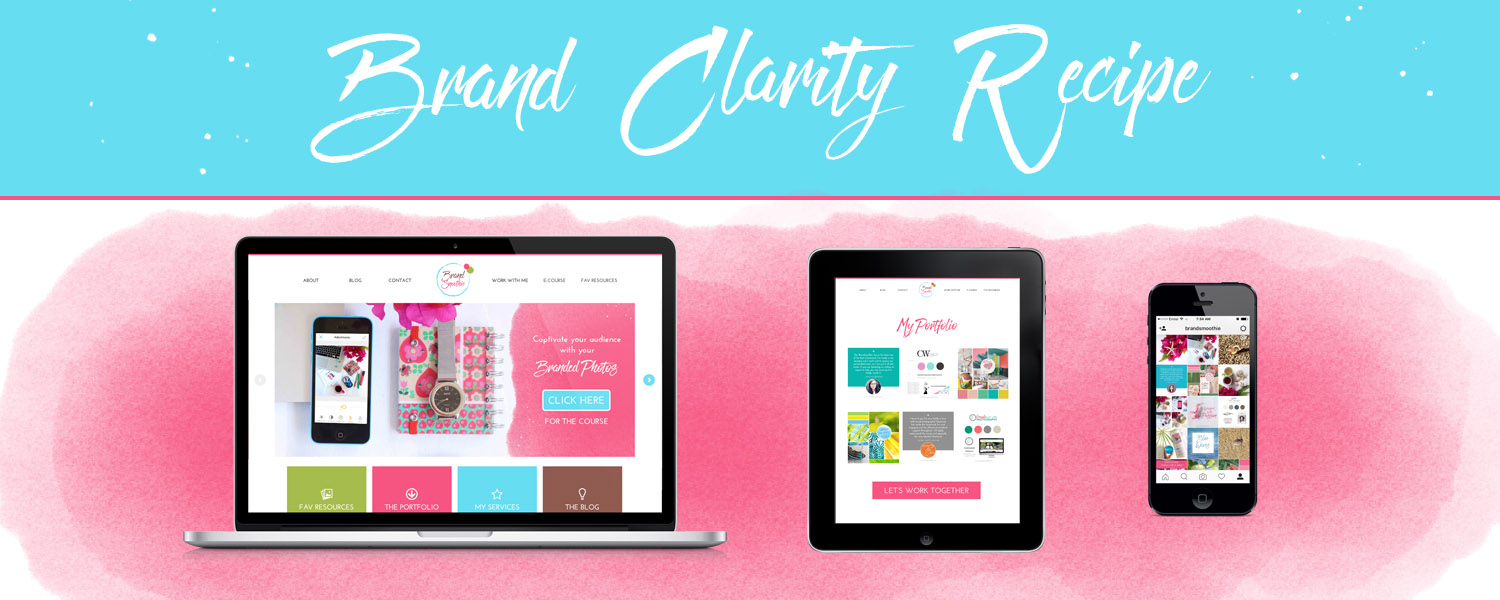 Imagine that you have to prepare a special smoothie without
the right recipe or any instructions at all?
How would you feel?
You might simply feel discouraged right from the start and give up on that desire
or you can choose to start somewhere, randomly picking ingredients,
estimating approximate actions to take.
Same applies when you are starting your online business.
You don't want to make the wrong choices that will make you
loose time, energy and money which means starting the process all over again.
Together, let's say no to confusion, frustration and doubt 
when communicating 
about your business.
Growth, cohesion and success is what you aim for.
Do you know that there's a person out there looking for your help?
It's your ideal client and you were both meant to connect.
With my branding expert guidance, you'll get a clear understanding of 
how
your brand can be used as the best communication tool so as to attract the right clients.
After reviewing your whole online presence (website and social media),
I'll create your "Brand Clarity Recipe"!
It's a powerful strategy that you can apply straight away to start making profit. 
HERE'S WHAT IS INCLUDED:
1 Discovery questionnaire

Branding check up

Website Branding Review

Social Media audit (Instagram, Facebook, Pinterest)

1 x 60mins Brand Strategy call

1 Brand Clarity Recipe (pdf Action Plan with improvement steps)
Custom Business and Marketing Branded Strategy

List of Resources (Copywriter, Web Designer, Design platform, Social Media Strategist , Business Coach,...)

Follow up and implementation check 2 weeks after our call
YOU'LL GET CLEAR ON YOUR:
THIS IS FOR YOU IF:
>> You want to bring cohesion in your business, throughout your website and social media profiles that will always match your brand.
>> You are just starting your business and want to do things right and investing in helpful guidance. 
>> You are ready to take action by implementing the tips and commit to successful results.
>> Your goal is to feel confident and look professional when sharing the link to your website or designing posts for your social media platform.
WHAT IS NOT INCLUDED:
>> The branding consulting process to define the 5 core brand elements (Learn more in the BRANDING BLISS & BRANDING JUICE packages)
>> The budget for your logo design
>> The design of your graphic elements, patterns and textures (Learn more in the BRANDING BLISS package)
>> The cost of your 2 branded fonts
>> If you are just starting as a entrepreneur and have more questions about branding, feel free to BOOK A FREE DISCOVERY CALL with me so that I can help you.
WHAT PEOPLE ARE SAYING: